Growing and maintaining trees on your residential or commercial property is essential, but when they become a hazard, you should consider removing them. Weak trees are also dangerous to your home.
Consider hiring a tree service professional for emergency tree removal services. Also, you may have trees in your compound or yard that pose dangers, which you must remove, especially because they can fall on the power lines. Other trees in your garden may block sunlight, and you'll need to eliminate them. Tree service professionals offer various services, including cactus removal, tree maintenance, stump removal services, and land clearing. Below are different ways to get rid of trees; they include:
Use Chemicals
You can get rid of the trees by tree trimming and using herbicides. It's vital that the chemicals used are environmentally friendly. Applying herbicide to one part of the tree is safe for the environment when you follow the rules of federal laws. There are different kinds of herbicides meant for the crops, and they include;
Glyphosate And Imazapyr
Works by tampering with the synthesis process of the proteins in the plants. It can also be used to kill a tree.
Triclopyr Amine
It kills trees by causing abnormal growth. Use it according to the instructions by the manufacturer for desired results.
You can use the chemical method in different ways, which include:
Injection Treatments
Injecting equipment is usually used for administering the herbicides into the tree. You should inject the herbicides from two to six inches to be effective. Since the equipment might be expensive, you can consider hiring a professional.
Cut Surface Treatment
The herbicides should reach the tree's vascular tissue; therefore, you need to cut the bark of the tree to get a way to apply the herbicides.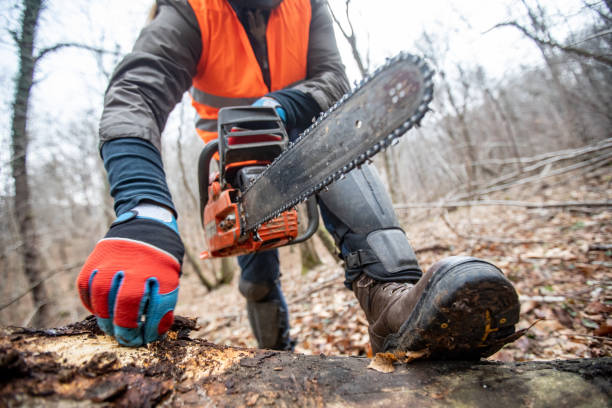 Stump Treatment
Apply the herbicide to the surface of the stump. This is important to prevent the tree from growing back. You should apply the herbicides two to three inches off the stump of a huge tree.
Basal Bark Treatment
This treatment is done by applying the herbicide on the tree's bark for 12 to 18 inches. Ensure that the bark is saturated. It is effective despite the size of the tree.
Foliage Treatments
This method involves foliar spraying. You can use this method in hot weather to be effective or when the trees do not have enough water.
Use Epsom Salt
Using Epsom salt is an eco-friendly method for killing a tree. After cutting down the tree, create holes in the trunk's outer part. Then, put the Epson salt into the holes. You can use the Epson salt on the stump if you want complete removal.
Spray The Leaves
This method works better for those small trees that are growing again after the original tree was cut down. Having a sprayer makes this process easier; put one gallon of water, add stump killer, and a ferti-lome brush. After the mixture, spray the tree leaves.
Use Roundup
After cutting down the tree, make some holes in the outer rings of the tree trunks. Put enough amount of roundup pro concentrate in the holes. The roundup will help kill the roots, preventing the tree from growing again.
Paving Around Them
This method can be used to kill the roots of the tree or even fallen trees. Paving or even mulching over the roots will prevent them from breathing. For the roots to survive, they need to keep on breathing. When you cover them, they will die, and there will be no tree growth.
Using Felling Method
It's one of the quickest methods. Ensure to watch safety measures when cutting the tree. Here are some steps you should follow to get rid of the tree using the method.
Begin by clearing around the tree by removing all the debris and fallen branches. Ensure you understand where your tree will fall safely without causing harm.
Use a chainsaw to make two undercuts where the tree will fall. The undercuts should be 45 degrees from the trunk.
On the opposite side, create a back cut.
Take the escape path when the tree is falling to avoid accidents.
After the tree has fallen, cut the stump to make it shorter, and if you want to get rid of it completely, you can use a stump grinder to grind them into wood chips.
You can also get professional stump grinding from a tree specialist or tree pros. It would help if you had tools such as; safety equipment like steel toe boots, arbor care tree service, chaps, and a chainsaw.
Non-Chemical Method
The mechanical method depends on the type and the age of the tree. They include:
Cut And Cover Stumps
To prevent tree growth, you can cover the stump using plastic materials or anything that will prevent it from getting light.
Pulling
If the tree is hard to pull, you can use pulling equipment. Pulling will help you remove the root crown, an effective method for removing the unwanted tree.
Tree Trimming And Pruning
This can be effective if you don't use the correct method for pruning and trimming since pruning is one way to keep your trees healthy. You can do this by removing more than a quarter of the twigs and the leaves, then prune branches at a bud.
Why Choose Our Tree Removal Services?
We offer tree care services in residential or commercial properties in the Phoenix area. We have certified tree workers with many years of experience providing tree services in Phoenix. Also, we offer emergency tree removal services.
Our certified arborists are insured to ensure you feel safe working with us. In addition, we offer fair pricing and high-quality tree service to our residential and commercial customers.
Apart from tree removal services, we also offer other professional tree services, including tree trimming, tree pruning, tree planting and fertilizing, palm tree maintenance, tree shaping, and emergency mesquite tree service.
Here at Tree Workers of Phoenix, we will help you take excellent care of your tree-like palm and hardwood trees. Our tree specialists also offer proper tree care by providing, branch management tree service. Taking good care of your trees, especially palm trees, for residential and commercial properties promotes healthy growth.
In addition, we have advanced equipment for tree removal services like stump grinding and stump removal to ensure that we offer a fantastic job. Contact us today for a free estimate on quality tree trimming, and tree removal services.