Phoenix residents have access to year-round outdoor living. And this is particularly true in the cooler seasons when we spend the majority of our time outdoors hiking, cycling, and taking in the beautiful scenery. Suppose you want to surround yourself with lovely landscaping in Phoenix, AZ. In that case, it is important to understand the significance of tree removal and tree trimming (a.k.a. tree pruning and tree crowning).
Although trees are an essential component of your landscape, there are instances when it will become obvious that you need to remove a tree from your property. This includes when the tree has been storm-damaged or if its roots are endangering the driveway or foundation of your home. You may need tree care services due to other issues, such as cracks in the trunk or insect infestations.

In this post, we'll cover a few of the major reasons why removing trees can be a significant—and, occasionally, even life-saving—task.

8 Reasons to Consider Tree Removal for Your Property
Dying or Dead Tree Limbs
There is a significant risk of damage to what is underneath a tree if dead or dying tree limbs are situated over particular areas. Branches can break off and possibly fall into nearby power lines, seriously damaging the cables and creating many problems for the neighborhood. Injuries caused by falling branches can also be a problem if they strike moving vehicles or even people.
A tree's entire body can perish if its limbs are dead since they restrict the proper quantity of nutrients from getting to the tree's roots. If so, it won't be long before the tree itself poses a risk and needs to be cut down by professional tree surgeons.
Prevent Foundation and Pavement Damage
Roots of trees (including mesquite trees, palm trees, Palo Verdes, etc.) have a propensity to grow and spread as the tree ages. Depending on where the tree is located, overgrown tree paths can pose a significant threat to the surrounding. The roots have the potential to spread so far that they could uproot concrete, seriously damaging the neighboring roads and walkways.
The best course of action in this situation is to get in touch with a professional tree surgeon so they can prune the roots or perform stump removal.
Clean Up the Landscape
Obviously, when certain trees reach the end of their useful lives, they turn into eyesores, and their removal would improve the area's scenery.
When you seek the assistance of expert tree surgeons to remove a tree from your property, they can do it while preserving the current landscaping in the area. If you want a tree removed while still maintaining a tidy garden, it is better to work with a professional tree removal service like Tree Workers of Phoenix.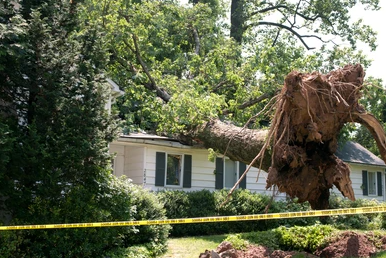 Increasing curb appeal
Your property's curb appeal may suffer from an overgrown tree. Proper tree trimming or removal can improve your home's aesthetics and boost its overall worth. A tree care company will help you do an amazing job trimming your overgrown tree so they can enhance your home's curb appeal.
Tree Removal Can Save Other Trees Around It
A tree needs to be removed if it has already died. Trees in poor health often pick up diseases or pest issues and spread them to other, healthier trees. You can stop the disease from spreading by cutting down that diseased tree.
Get Clear Space
By removing huge limbs and unhealthy trees, you can create room for a shed, pool, or other facilities that could enhance your quality of life and boost the worth of your home.
Tree removal can promote forest diversity and restoration.
Do not feel bad about aging trees. Consider it an advantage to have room for young trees to grow. So, get rid of an old tree as soon as you notice it is no longer able to benefit the environment so that you can plant new trees that will be more beneficial to the ecosystem.
Taking a Tree Down Can Open Up New Resources
By removing trees to provide room for new species to flourish, you are also generating extra resources from the newly planted tree. The new tree can offer you more resources like fruit, wood, paper, or nuts.
Why You Should Hire A Professional Tree Service Company For Your Tree Removal
They Possess a Tree Cutting Permit.
Many cities in Phoenix, including Scottsdale, require you to have a permit before carrying out certain tree removal activities. But by letting experts handle it, you won't need to acquire one.
Save Time
You can save effort and time by hiring a reliable firm with experts in pruning, cutting, or removing trees. They will have the knowledge, skills, and experience necessary to complete the work effectively.
Observe all tree removal laws
Many regions have tight laws governing tree removal and cutting, which the experts will abide by to preserve their reputation.
Save money
Using expert tree trimming or removal services can help you save money by avoiding costly damages brought on by unhealthy or dying trees. Tree trimming service will help you do a very good job at a fair price, saving you money.
Guarantee Safety
Despite initially appearing easy, tree removal can be risky if you don't know what you're doing. A tree service company will help you do a fantastic job and avoid any possible risks associated with this type of project.
Scottsdale Tree Removal Service
Many times, trees, such as mesquite, palo verde, palm tree, etc., .are planted without consideration for their eventual size and end up being too big for their surroundings. In other cases, the trees may have perished from disease or another issue, necessitating tree removal (for safety concerns).
Whatever the circumstances, our skilled tree removal Scottsdale AZ professionals and tree specialists are ready to take on your challenging or hazardous project. Safety is our primary priority for all our tree service projects, so our customers throughout the Phoenix area can rest assured of their property's safety.
Call the professional tree doctors at Tree Workers of Phoenix whenever you need tree trimming or tree removal services in Phoenix, AZ. Our Scottsdale tree trimmers and tree surgeons have been offering our community specialized tree services for years, and we are always here to help. Call 602-320-2797 today.